Automotive Service Technician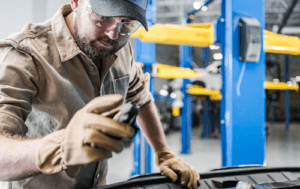 The Technician is responsible for diligently maintaining, repairing and servicing customer vehicles to ensure both customer safety and satisfaction while contributing to overall departmental success. A key priority for a Technician is to instill brand loyalty and ensure a positive customer service experience.
The Technician has excellent communication skills and is able to listen and discern as well as execute all requirements in the Service process. The technician can focus on the big-picture without missing any of the details and delivers results. They continually strive to become an expert in their field so that the service provided is above customer expectations.
A Technician upholds the dealerships' standards and values so that the customer is fully satisfied through every interaction with the service department. As a team player, the Technician fosters positive relationships with personnel in all areas of the dealership.
The Details:
– Be detail and task-oriented
– Perform vehicle maintenance and repairs.
– Diagnose the source of any malfunctions and perform repair.
– Examine vehicles to determine if additional safety or service work is required.
– Provide written, prioritized quotes for necessary additional work.
– Explain procedures and repairs directly to the Service Advisor.
– Perform road tests.
– Perform safety inspections.
– Review and analyze actions regularly to determine how to better utilize time and plan more effectively.
– Encourage compliance with applicable laws and regulations.
– Be a strong communicator
– Greets all customers warmly.
– Update the Service Consultant throughout the service process (eg. when there is an issue, when the car goes to detailing for a car wash, when the work is completed).
– Using strong written communication skills, clearly and concisely document findings throughout the service process.
Commit to the Dealership Brand
– Complete the training offered by the dealership.
– Stay up-to-date on all training programs.
– Possess a strong product knowledge.
– Possess a strong aptitude of technical/mechanical repairs.
– Be knowledgeable about new features and updates.
– Be a champion for delivering excellent service at all times.
– Actively maintain the cleanliness of personal and team workspaces.
– Maintain a high level of professional appearance.
– Develop and maintain full knowledge about the Industry
– Keep up to date with products, accessories, prices, and key features of major competitors.
Specific Skills
-Strong aptitude of technical/mechanical repairs.
– Strong product knowledge.
– Excellent time management skills.
– Excellent customer service skills.
– Effective written communication skills.
– Excellent interpersonal skills with an engaging and upbeat attitude.
– Excellent verbal communication.
– Organized and an attention to detail with the ability to document customer needs.
– Ability to work in a team environment to achieve common goals.
– Flexible and open to change; take on special tasks as needed.
– Ability to manage customer complaints and to solve difficult problems.
– Results-oriented and accountable.
– Able to operate manual and automatic transmissions.
– Basic computer skills.
Education & Experience
– College Diploma or Trade School Certificate in Automotive Studies, or equivalent.
– Strong product knowledge.
– Strong aptitude of technical/mechanical repairs.
– Valid Automotive Service Technician (AST) Certification of Qualification, Class A.
– Ozone depletion certificate.
– Valid Driver's License for province of employment.
– Ideally two (2) years minimum as an Automotive Service Technician.
– One (1) year Brand product experience.
– Dealership experience preferred.