THE QUIET REVOLUTION STARTS NOW
FULLY CHARGED. FULLY ELECTRIC.

Introducing the Hummer EV
As the world's first zero-emissions, zero limits, all-electric super truck, HUMMER EV generates the power and technology to conquer the off-road with extraordinary confidence. The revolutionary HUMMER EV will leave everything Batteaux drivers thought possible in a cloud of dust. Read on to learn about the HUMMER EV performance specs and technologies, the HUMMER EV interior cabin features, and the HUMMER EV release date. Then fill out a pre-approval in advance at your signature Blue Mountain GM dealer, and contact Mike Jackson GM to reserve yours today!
To take on the toughest off-pavement obstacles in Collingwood, off-road dominance is engineered into every element of HUMMER EV. Read on for a breakdown of the high-performance technologies you'll enjoy on an electric super truck.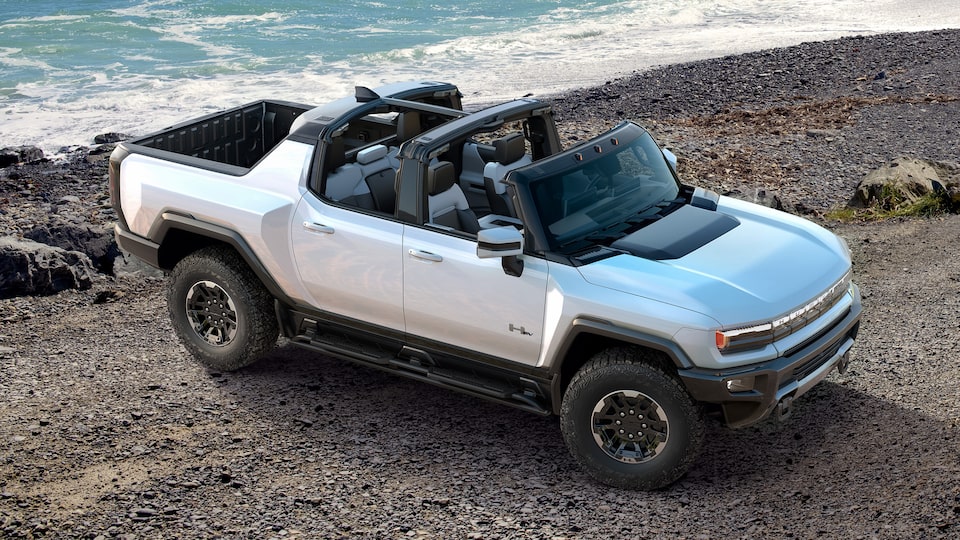 UltraVision With Underbody Cameras
UltraVision features up to eighteen available camera views†—including waterproof underbody cameras that provide real-time views to help you pick your best line along the trail. They're forward and rear-facing and strategically placed low enough to see beyond the skid plates. In addition, the underbody cameras include a wash function and replaceable lens protectors.
Specially Engineered 35-Inch TIRES
It all starts with a towering ground clearance made possible by specially engineered 35-inch Goodyear® Wrangler All Territory tires for an optimal balance of on- and off-road performance. For those who demand more, HUMMER EV is 37-inch OD tire-capable.†
CrabWalk

†
This revolutionary new feature of the HUMMER EV drivetrain allows Nottawa to turn your rear wheels diagonally by 10 degrees in either direction so that you can navigate tight trails with the smooth, responsive off-road handling that no other off-road vehicle on the market currently offers.
Additional Highlight HUMMER EV Features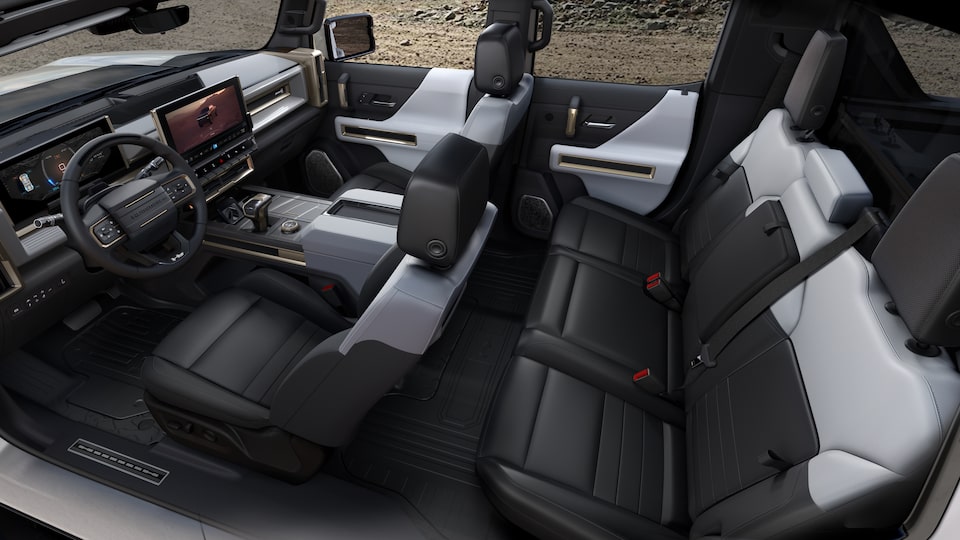 Immersive Infinity Roof With Modular Sky Panels
A highlight of the HUMMER EV interior, the Infinity Roof is what "zero limits" looks like. The industry-leading Infinity Roof and modular Sky Panels create an immersive open-air experience. Let the world in by removing the four roof panels and storing them in the power trunk, stowing the front I-Bar, and lowering the power Rear Drop Glass.
AVAILABLE WATTS TO FREEDOM

†
This electric super truck can hit 0-97 kilometres in just 3 seconds, with up to 1,000 hp and 11,500 lb-ft of torque. You'll also enjoy up to 560 kilometres per charge with 160 km charged per 10 minutes!

Offering the latest version of Super Cruise†, the HUMMER EV includes driver-assistance technology for hands-free driving and automatic lane changing on more than 200,000 miles of compatible roads and growing.
Both the HUMMER EV interior and exterior design elements are infused with signature cues, beginning with six vertical grille bars, a low-turret roof profile, and an upright windshield, while finishing strong with unique signature taillamps.
What is the HUMMER EV Release Date?
While U.S. production begins in 2021 in Detroit, the HUMMER EV release date in Canada will be Fall of 2022. If you have any questions about when the HUMMER EV is going to arrive in the Blue Mountain communities, or HUMMER EV interior features, give Mike Jackson GM in Collingwood a call at 888-901-8063. We'll happily keep you posted with updates. You can also check back on this page for updates. If you other questions about General Motors news, be sure to check out our GM Research Guides for more informative reads.